Ideal for traditional braces treatment and clear aligner therapy, AcceleDent® Optima™, a strategic, technology-driven tool for orthodontists, helps achieve high-quality clinical results. Manufactured by OrthoAccel® Technologies, Inc., AcceleDent Optima is the leading vibratory orthodontic device that delivers better orthodontic experiences for orthodontists and their patients.
Even for patients with challenging tooth movements, the patented technology of this FDA-cleared Class II medical device increases the predictability of clinical outcomes throughout the treatment process. SoftPulse Technology micropulses exert up to 8 times less force than a power toothbrush and 200 times less force than ordinary chewing, and the precisely calibrated low pulsatile forces that transmit through the roots of teeth increase cellular activity to stimulate the surrounding bone.
For clear-aligner therapy cases, many orthodontists have found that AcceleDent Optima's gentle vibrations improve tracking and tooth movement accuracy so much so that the finished result mirrors the planned programmed movements precisely. Additionally, orthodontists report fewer refinement stages when integrating AcceleDent Optima into treatment.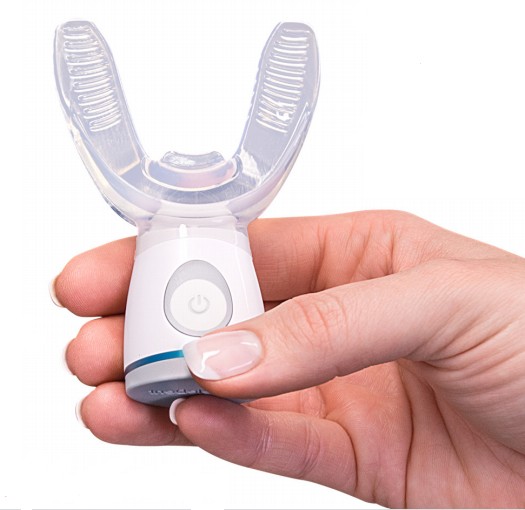 AcceleDent Optima gives orthodontists greater control and the ability to give patients more precise treatment estimates and expectations. Published studies show that AcceleDent increases the rate of tooth movement by up to 50%1 without compromising case predictability while changing aligners every 5 to 7 days instead of a conventional 14-day protocol.2
In recent years, the number of adult patients with mainly esthetic dental requirements in the "social six" (top front six teeth) has significantly increased. Consequently, the overall required treatment duration is rapidly gaining importance among consumers. The SoftPulse Technology has shown a significant reduction in pain sensitivity in orthodontic treatment3 as well as an increase in bone modulation rate in the alveolar bone, which leads to faster, more accurate, and predictable tooth movements.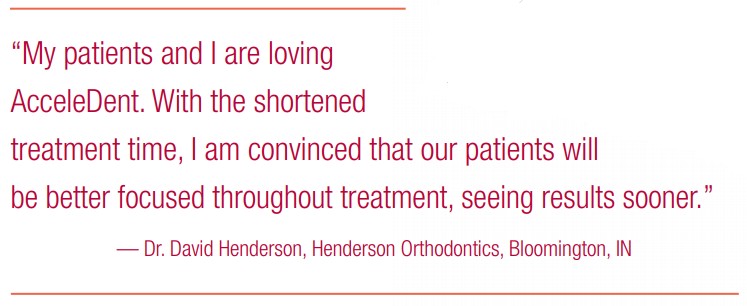 The science behind AcceleDent is supported by three randomized controlled trials and 14 peer-reviewed studies. The interactive online case gallery demonstrates the varying clinical benefits orthodontists and patients have realized with the device. The gallery includes an equal mix of braces and aligners cases and illustrates unique treatment approaches that show how doctors treat different levels of case complexities with AcceleDent Optima.
To view the interactive case gallery and peer-reviewed studies or learn more, visit AcceleDent.com, or http://orthoaccellearning.com/.