When it comes to thermoforming plastics, orthodontists have many options to create quality results for their retainers or aligners. Their expertise combined with the right mix of quality, value, and convenience not only brings out the best treatment outcomes, but also can improve the efficiency of the office.
A new product, Atmos Thermoforming plastic material from American Orthodontics, offers this winning blend as it has been tested and engineered for best-in-class formability, clarity, moisture tolerance, and extended inventory shelf life.
"Atmos has an open-bag shelf life or storage time of more than 3 days in a climate-controlled storage area," says Kathryn Dinolfo, AO Product Manager. "That could equate to weeks in office or lab conditions, compared to the typical recommendation of using similar products within 15 minutes of exposure to the atmosphere."
Atmos Thermoforming plastic sheets can remain in open air for 10 to 14 days without warping during formation and also offer excellent stain and wear resistance. Not only will the moisture tolerance of Atmos create less waste in the lab, but a Visual Inventory Management color-coding system will allow orthodontists to easily identify the size of the plastic for intended usage and to manage overall inventory visually.
Nancy Morales, Clinical Coordinator for Innovative Orthodontics in Sicklerville, New Jersey, has been using Atmos.
"We actually did a little science experiment and left one of the pieces of plastic out on the countertop for a few weeks and heated it up, and it did not have any air bubbles," says Morales. "We are all super excited about that, plus we have not had a single patient come back with a cracked or broken retainer."
The appearance of air bubbles during formation is indicative of moisture failure. Exposed to 90% humidity in an environmental chamber, Atmos Thermoforming plastic did not form air bubbles even after 3 days. While this could equate to much longer periods in dryer conditions, Atmos should be used within 3 days of opening for best results. Stored in an environment of no more than 75°F and 60% humidity, unopened bags of Atmos Thermoforming plastic could be stored for as long as 3 years.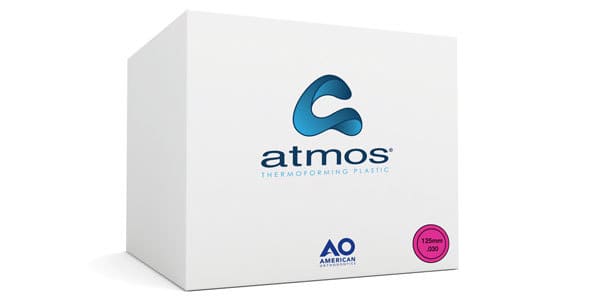 In addition to achieving lab-tested best-in-class moisture tolerance, Atmos provides patients with an excellent esthetic treatment experience due to its excellent performance, clarity, durability, and stain resistance. It can be formed on stone models or 3D-printed models.
Dr. Nicole Jane of The Big Smile Orthodontics in Livonia, Michigan, considers formability and clarity to be the most important factors in choosing a plastic for aligners.
"My lab team loves Atmos," says Dr. Jane. "It's been great for our in-house aligners because of its excellent formability and clarity."
Atmos Thermoforming Plastic is available in .030″, .035″, and .040″ to accommodate most clinical needs and arrives in lab-friendly packaging, allowing you to easily select the proper material from your inventory. Atmos can be formed on equipment that requires 125 mm circles, 120 mm circles, or 5-inch squares. Atmos offers packaging options to accommodate small labs to large offices.
Atmos is FDA registered and CE marked, and has passed all ISO 10993 biocompatibility testing. Atmos is available to purchase as of February 10, 2020. Please contact your AO Representative for more details.
This information was provided by American Orthodontics.